Big Bear Day Tour
Enjoy a day in The Snow!
Winter is the most magical time in Big Bear mountain!
Discover the mountains of Los Angeles, there's plenty of fun for everyone!
Big Bear Lake is a unique mountain resort community located 100 miles northeast of Los Angeles and surrounded by the San Bernardino National Forest. About 21,000 residents make their home here full-time.
Altitude ranges from 6,750 to 9,000 feet. There are over 300 days of sunshine each year. Summer temperatures average around 80 degrees during the day, and 45 degrees at night. Winter brings about 100 inches of snowfall, and temperatures which average in the low 40's during the day, and mid 20's at night.
Pine and oak forests flourish in Big Bear's alpine environment. The area provides a natural habitat for approximately 30 wintering bald eagles and 29 species of rare plants, ten of which are indigenous to the area.
Choose which package suits you best:
Package 1: Full Skiing/Snowboarding pack
An all inclusive package for skiers/snowboarders, this package includes a full day on Big Bear's trails, Snowboard OR Ski rental and lift ticket & round-trip transportation.

Package 2: Snow tubing fun pack
If you don't know how to ski or snowboard, this package might be for you! Go out for a day of tubing on Big Bear's snowy slopes! Includes round-trip transportation and tubing rental.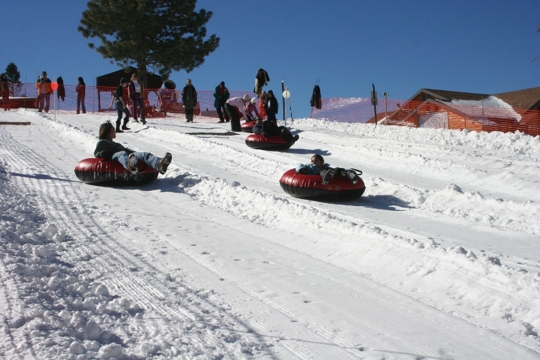 Package 3: Day in the snow
If you would simply like spend a day in the snowy mountains and enjoy the fresh mountain air. Enjoy a hot chocolate & drinks at the Big Bear Lodge. Walk around and explore Big Bear on your own, with our day in the snow package. Includes round-trip transportation.